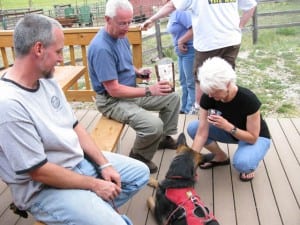 I spent the first eight months of my life tied up in a backyard. The only fun I got to have was barking at anything and everyone who I thought might come near me.
Now that I'm a free Dawg, and living the high life, I've been told that loud, mean barks aren't exactly a good way to make friends. So I guess that explains why people run away when I start barking at them.
Mom and Dad are taking me everywhere they go. They want me to meet new dogs and people, so that I don't bark at everyone whenever I'm on a leash.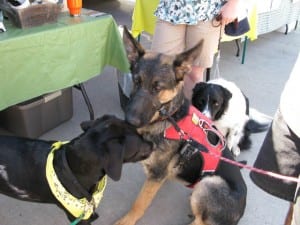 This weekend, I went to the Fort Collins Farmer's Market. Lucky for me, the cool people in this town are really Dawg friendly. Every time Mom and Dad saw other dogs on leash, they asked if we could all meet and get to know one another. I heard them tell the humans that I'm "in training" to be a good dog on a leash.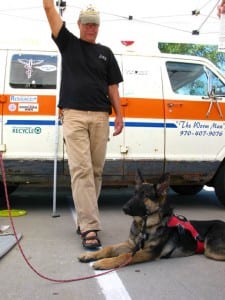 I met some cool Dawgs who were also pound puppies. And then I met this very nice man who calls himself the "Worminator." He said something about how he wants worms to eat everyone's garbage.
I didn't really care about that. I just thought the pile of worms and garbage he had there smelled really, really good.