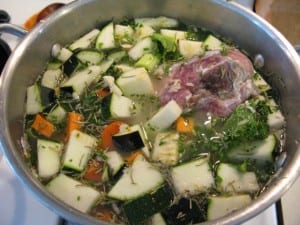 Since I came to live with Mom and Dad, they've been feeding me a combination of home cooked dinners, and premium kibble for breakfast. I love any kind of food, I really don't care what I eat, it's all good to me.
But Mom and Dad are now saying I'm going to eat nothing but home cooked  and raw foods from now on. Mom read this book, The Whole Pet Diet, that has all kinds of cool recipes in it, and the dirt about what's really in dog food. My cousins also eat nothing but home cooked food based on the recipes in this book, and they love it.
So here's a photo of some turkey stew that Mom made for me. She cooks big batches about once a week, just for me!
And here's a picture of me eating it. Dad laughed his head off when Mom put it down, he thought I wouldn't want to eat anything that looked that disgusting.
But here I am, licking the bowl clean. I'm pretty spoiled aren't I?
This is good stuff. I know it is, because I have the softest, shiniest fur now, and no more itchy skin or bad breath.
Look out ladies, here I come!