Last night was so confusing. A freaky fat guy in a red suit crashed a big pawty I had to go to. Everyone was louder than me and laughing and eating, when Santa knocks at the door. He makes himself at home, pulls up a chair and then my pawrents insist on putting me next to him to take a picture. 
Santa said "Hey Dawg, come on, who's you're buddy? Come on, come here big guy!" 
I didn't know who he was, right, so I say "Hey fat guy, leave me alone!"
Snap! Goes Mom's camera.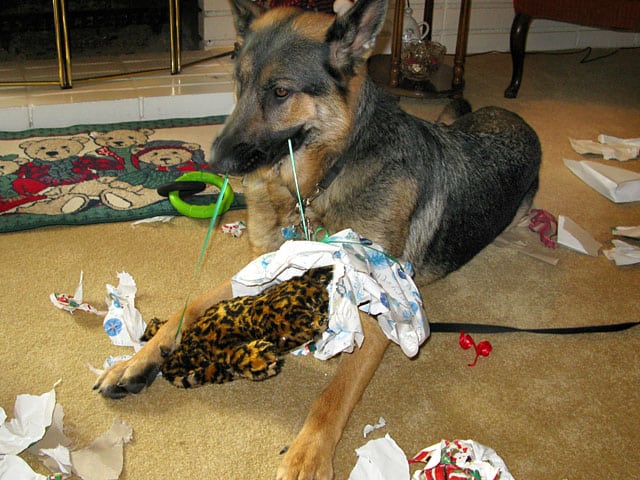 Then Santa got up and left. Everypawdy laughed so hard when he stumbled outside!
Turns out the fat guy is OK after all. When I woke up this morning, he left boxes with paper for me! Wooo hoooo!!!
He said…
"To my buddy, Wyatt Ray Dawg….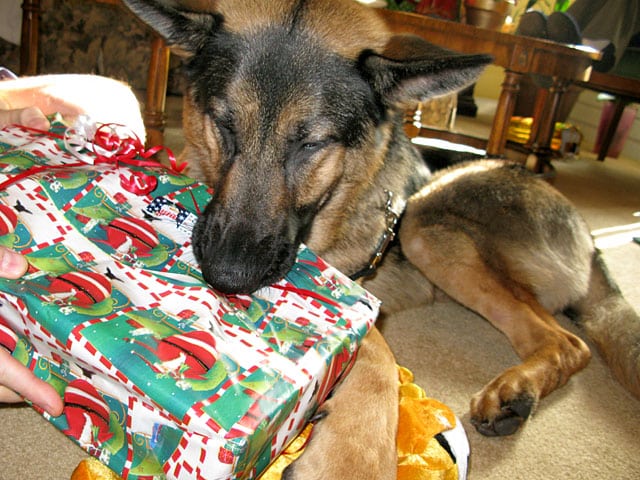 Your partner in Crime, Bad Santa..."
I guess I did somethin' right this year, because there was lots of stuff for me….bones, toys, treats, and a very nice blanket from Granny Kay!!!!!
Thank you Granny Kay, now I'll stay warm and toasty, and look fashionable too!
I'm a pretty lucky dawggy. I hope that all of the shelter dogs in the world can find their furever homes too someday, because all of us deserve a hoppy Chirstmas!
Merry Merry Hoppy Hoppy Howlidays Everypawdy!!!!