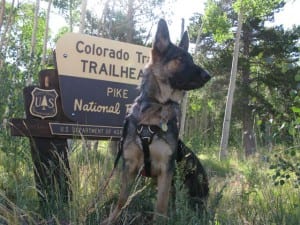 Well, like my friend Codie Rae said they would, my pawrents are taking me on the road with them. Right now we are in Western Colorado, at a dude ranch.  There's horses and dogs and rivers and lakes and I'm just going batty with so much to do here!
Mom and Dad, however think that all this fun I'm having is a bit of a problem.
See, I'm having soooo much fun, that there's no way that I can stay mellow enough to practice stuff they want me to do, like, oh, "Stay" and "Come!" and my personal favorite, "Drop it!" I also really hate being on a leash because all the other dogs here get to run free, so why can't I?
Sheesh. Road trippin' is hard work.