The life of a magician is never an easy one. You're always lookin' for a way to top the last magic trick, keep that audience impressed, you know?
Well, I think I gave my pawrents the surprise of their life the other night!
They locked me up in my crate because they went to hang out with friends who had some dogs that were talkin' trash about me (Ok, maybe I started it, but still….).
So there they go, thinking that the crate locks and four zip ties could keep me from my magic trick show. HA! I fooled them.
The Great Crate Escape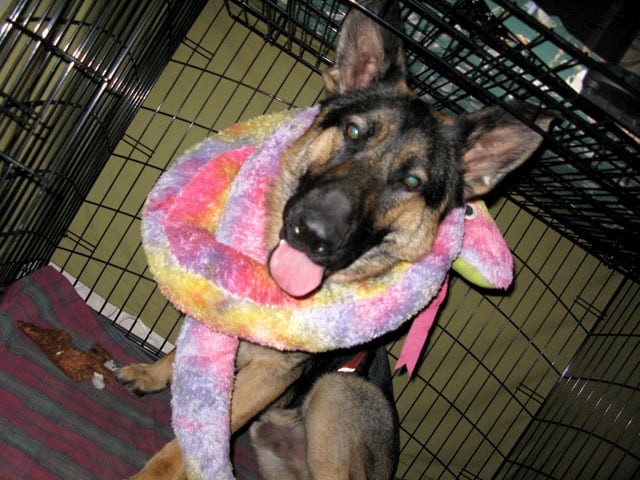 Behold!
On top of my crate, you will see a cover.
Mom sewed it herself.  It's supposed to make me feel safe and calm. That's what those dumb humans think anyways. She puts the front of the cover down whenever they leave me all alone.
Now, look carefully at the next picture.
 WAH! LAH!
Wyatt Houdini Ray has made the crate cover disappear!
And everything that was sitting on top of my crate too!
(Ok, I"ll let you in on a little secret. The cover, and the shopping bags, are inside my crate.)
Silly humans, they still have no clue as to how I managed to pull all of this inside, without opening the crate or bending the bars (of which I am totally capable of doing but was just too lazy to try that night).
Sheesh, when will they learn that I, Wyatt Houdini Ray Dawg, am smarter than they are? And I am perfectly capable of entertaining myself while they are away.
Do I entertain you?