It's good to be home. Did you miss me?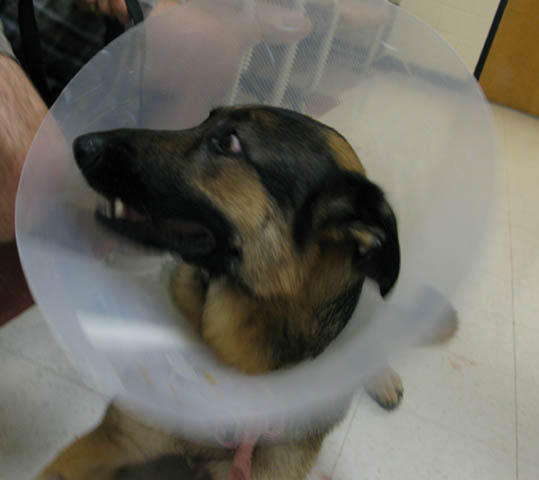 Well, I missed YOU. Mom and Dad told me everypawdy was worried 'cause I was in the hospital for so long. You dudes are the best, thanks for the concern!
But as you can see, I'm doing jussssst dandy right now. Got my Tramadol and my comfy bed, what more can I want?
What The . . . ?
So, you're wonderin' what the heck happened? What's up with the two and a half hour surgery on my stump?
Well, I"ll let Mom and Dad tell you on the "official" Tripawds News Blog. Because I don't really get it. Something about some foreigner getting into my stump (don't ask me how they got there) and makin' everything all icky in there.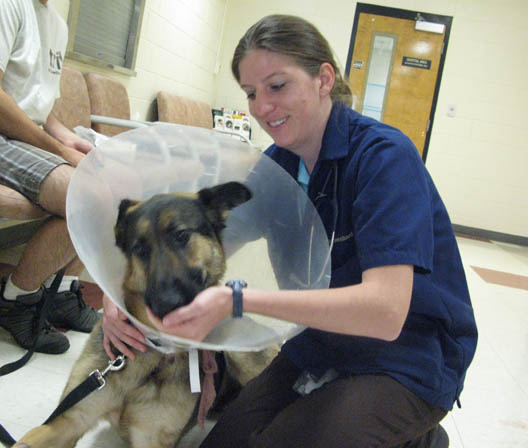 No worries dudes and dudettes, I'm all good thanks to my pawesome vet-in-training! Christa Rocks! Colorado State is all that people say it is and more. They were SO nice to me!
Just a few more days with this stupid cone of shame and the hand-grenade on my side, and I'll be good as new.
Well, maybe when the hair grows back on my stump . . .  and on my weiner! Baaaaahhhh! They shaved my WEINER!
Good night everypawdy. Talk to you soon.