Ok how's this: "Wyatt Ray Road Dawg." What do you think?
We packed up and left my Grandpawrent's house in Los Angeles last week. Now we are in the desert, by this big stinky lake they call the "Salton Sea." This place is craaaaaaazy. Lots of kooky campers, some wild desert dawgs, coyotes, and crazy jets zooming around most days. They're loud but they don't bug me a bit.
The place we are camped still isn't as nutty as my Grandpawrent's house was. Over there they had people coming and going all the time, and lots of little kids who kept running from me.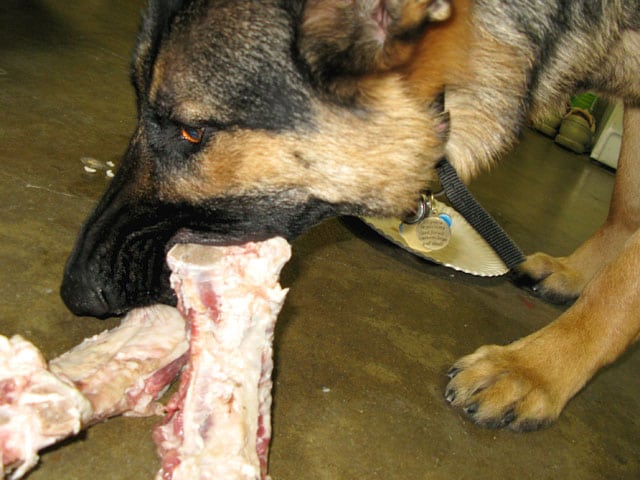 They were loud and made me all nervous and jumpy. I had to constantly be on alert there. Every time I barked they got more and more afraid of me. I wasn't trying to hurt them, I was just being as energetic as they were, you know what I mean?
The funny thing is, they didn't seem to get that maybe if they didn't act so afraid of me, I wouldn't have been so nervous. Duuuuh.
It's pretty quiet here in the desert, and I like it that way. When dogs do come around, I tend to get pretty excited, but I think I'm getting better at sending silent psychic messages that tell them to be cool, instead of barking my head off.
Oh hey, here's a picture of me eating these yummy raw rib bones that I got for my BIRTHDAY. Yeah, I turned 1 year old in January! Yipee! Hoppy Birthday to me! My pawrents are so lame, they didn't make a big deal out of it like some Tripawd pawrents do around here. That's alright, I'll forgive them….this time. Maybe next year I'll get some trachea!