Word's out. I got me some wheels. My momma told you guys last week in Tripawds News, did you see her Expert Tips for Tripawd Wheelchairs?
How My New Tripawd Wheelchair Happened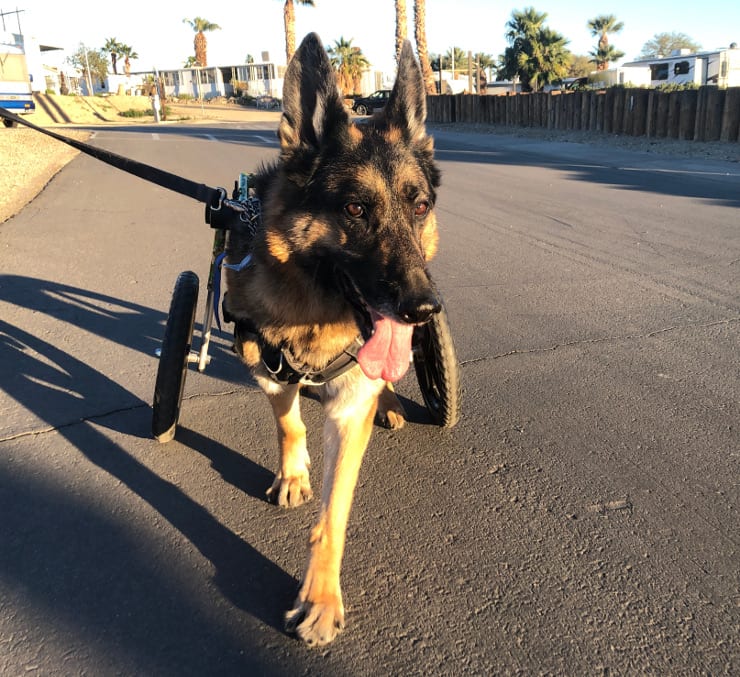 Let's face it. I'm ten years old. My walks ain't what they used to be — as long as mom and dad have any say about it. Oh don't get me wrong, I try to go far, but the humans keep saying something about not letting me overdo it. So walks get shorter and guess what? I get bored. And fat. Not even Tripawd brain games make me as happy as walking. I'm a working dog breed, remember?
Then in December the Oaktown Pack came to visit and brought wheels for me! The wheels belonged to Austin Ray. He couldn't use the wheels after a while because his "front end doesn't work so well," say his people. That's when mom thought I should give them a try.
A few weeks later they called a dogtor and we met her at a park. I thought that we were gonna go play ball or something, but nope. Dr. Kramer is a canine rehabilitation dogtor, and she was there because you just don't put a Tripawd in a wheelchair without an expert to make sure it fits right. Check out her Tripawd wheelchair tips.
So here's what happened:
They fussed with me for a long time, trying to get the cart to fit right. But it only took a few minutes for ME to figure things out. Dr. Kramer kept saying "Wow he's taking to them faster than I thought he would!"
To her I said, "You had your doubts?" I mean come on, my people are always bugging me to model new gear for Tripawds. Harnesses, boots, you name it, they make me show it off. So why would wheels be any different?
We've been practicing our new walking routine. I don't go for wheelchair walks every day, since the chair puts more weight on my front end. Dr. Kramer says eventually I may need a "carpal brace" for wrist support.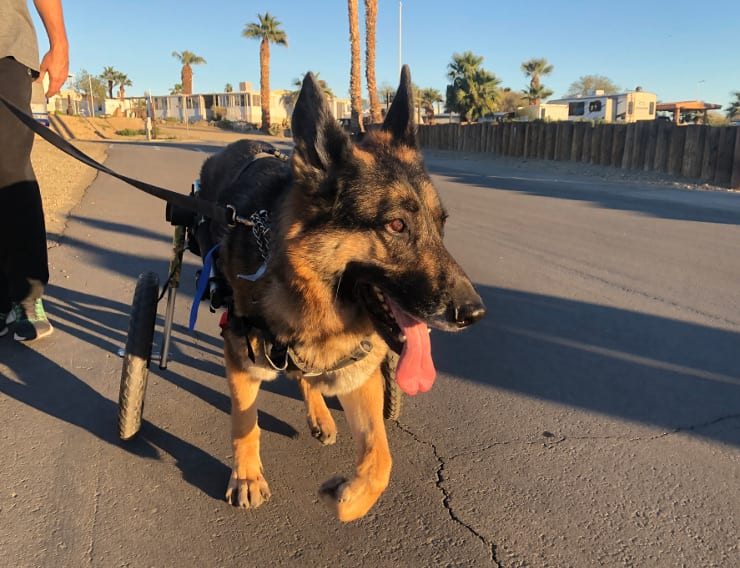 About every two days here's what my new Tripawd wheelchair walking routine looks like:
First I go potty.
Then I do a five or ten minute warm up walk. Dr. K says this is important. Just because I have wheels doesn't mean I will give up walking, as long as I am mobile.
When my warm up walk is over, Mom and Dad set me up in the chair and away we go!
I kinda like the wheels, actually. And Dad likes them more now that I don't run over his feet as often. I've tipped over once or twice but I think I'm getting those turns down now. The cool part is that everywhere we go, people wave and cheer me on, like I'm in a pawrade or something!
The Tripawd Wheelchair Life is good.