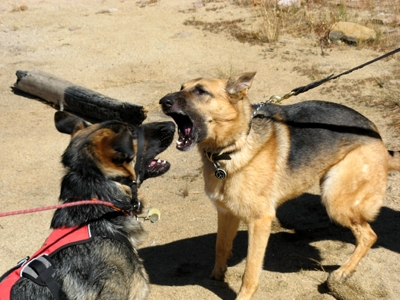 Whew! I've spent the last three days at Codie Rae Boot Camp. As you can see, she's one tough Tripawd! More about that later, but meanwhile . . .
Sargent Codie Rae drilled it into me that I need to let you know about a really great fundraiser taking place, for German Shepherd Rescue of Northern California.
This group is the same one who helped bust Codie Rae and I out of the Oakland, CA pound! If it wasn't for them, we wouldn't be here to spread the word about Tripawd pawesomeness.
So their fundraiser is called "Wags to Riches," and even though it's a fun pawty taking place in Walnut Creek, CA, you don't even have to be there to pawticipate and WIN!
There's a big raffle going on, where you can win
a Dream Vacation worth $7500 (or get $4500 in cash instead!)
a MacBook Pro
or a two night say at the Carmel Country Inn, a pawesome pet friendly hotel in beautiful Carmel, CA.
Tickets are just twenty bucks!
We know times are hard and we're all broke. But the rescue animals are hurting so bad right now. Even buying just one ticket can go a long way in helping other future spokesdawgs find loving homes in California. So dig under those couch cushions and under your car seats, and download the German Shepherd Rescue of Northern California raffle ticket form today!