Rolling….rolling….rolling…keep them dawgies movin!
There I was, chilling after my big surgery and milkin' it for all it was worth, when Mom and Dad start packing up the doghouse on wheels and away we go to Cowboy Country.
They tried bringin' me here when I was a punk kid, but I went CRAAAAAAZY so we left after just a week or so.
Now that I'm older and wiser….ok, older, they thought they could try it again. So Dad's talkin' like he's gonna go play farmer or something and I'm LMAO going "Uh huh, sure Dad, you're going to trade in that laptop for a tractor eh? Riiiiiiight."
But look, he wasn't joking! Yep, that's him on the left, working on the big hay machine, instead of banging away on that keyboard.
He's all beat up and his neck is sun burned. I think they call that a RED neck, don't they? Hah! But that's why you ain't seeing him much around lately.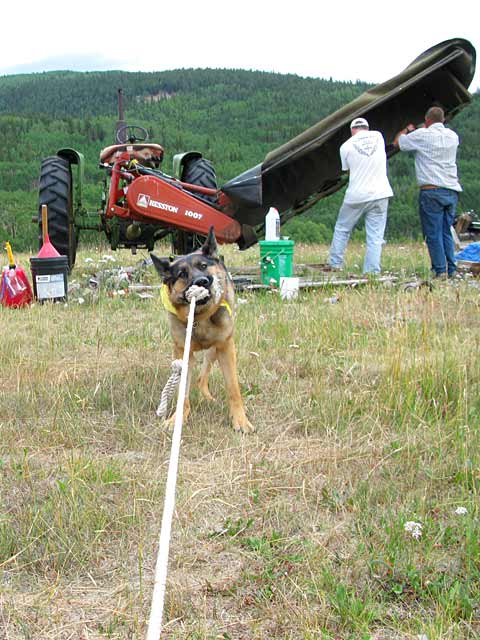 Me, I'm diggin' it here being a ranch dawg and chillin with my peeps, a pack of wild Shelties and lots of freaky critters like fish and deer and I hear there's elk too but I ain't never seen them.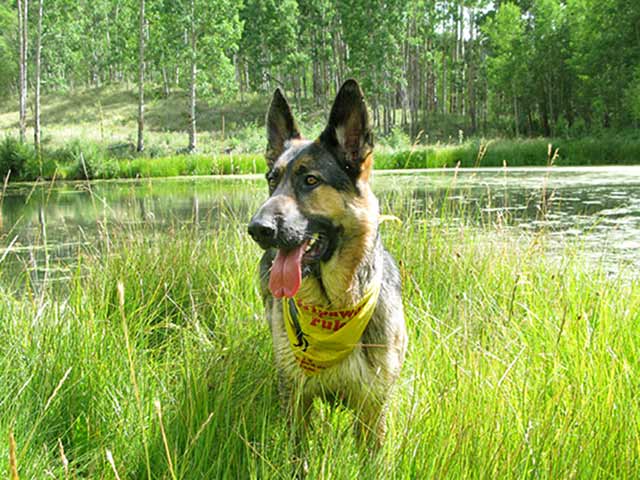 Mom is also working hard but since she's taking pictures she's never in them. Trust me though, she's kickin' butt doing a lot of gardening stuff here.
I heard them talking about coming back for like all summer next year. I like this ranching thing. A few more weeks of this and I'm going to be running that tractor myself!